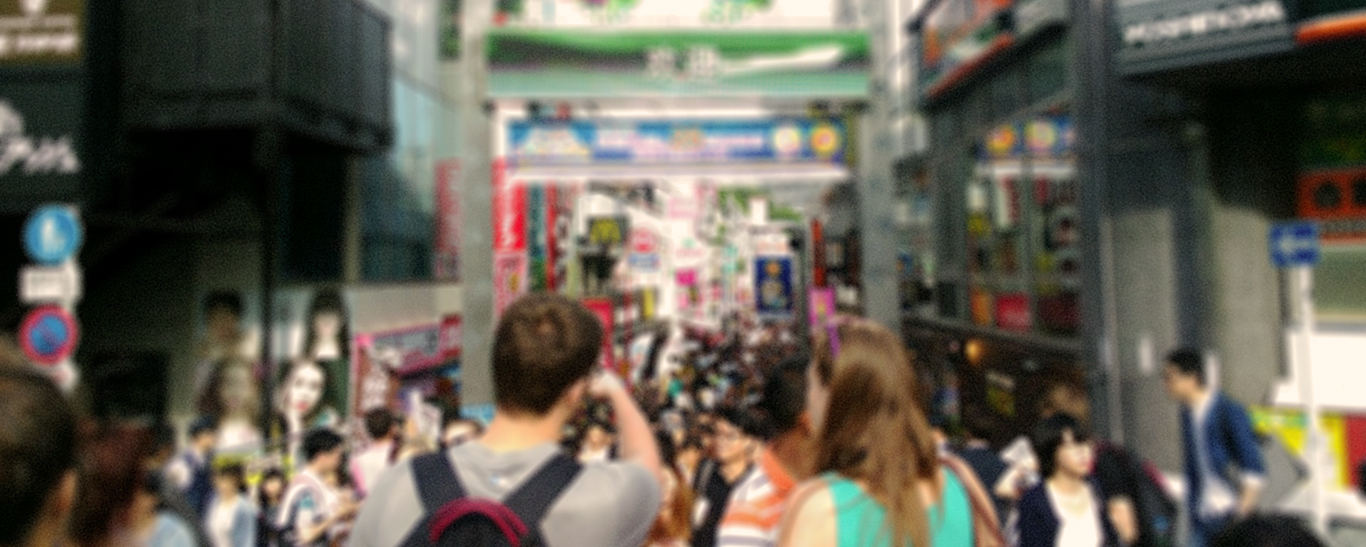 COURSE
2.5 - 5 hours・Tea break included
1. AKIHABARA
AKIHABARA Sta.

Meet at "Electric town exit" of Akihabara station.
Many stores of electric appliance and anime.

MAID CAFE

We can meet some maids on street and also visit maid-cafe and talk with them if you want.

AMUSEMENT ARCADE

Play some game at amusement arcade and take a look at some anime or TV-game shops.

LATEST TREND

Touch some latest trend at Akihabara like VR(Virtual Reality) experience which is now available.
2. YOUTH CULTURE
TAKESHITA st.

Start from the street which is the center of youth culture. Fashion, amusement or snacks are still being created now.

UNIQUE PEOPLE

We can meet flashy and aggressively pretty style of people.

UNIQUE CAFE

Take a rest at some unique cafe. Some is famous for decoration inside and the other is famous for its taste.

UNIQUE STORES

There are many Unique or "Kawaii" stores in this area. Just taking a look is enough to enjoy.
3. Glorious TEMPLE
BEAUTY OF TEMPLE

From the gate to main hall, you can enjoy watching architecture and atmosphere.

TRADITIONAL MALL

At traditional shopping mall, you can try to buy or eat many thing of ancient times.

AMUSEMENT

This district also has oldest amusement spots.
It's old but still has attractiveness. We can't miss it!!

FOOD STANDS

If you want to try some local foods, it's the best place to eat. Cheap and easy to get in and get out.
4. MARTIAL ARTS
MARTIAL ART

Try one of the martial arts, "Kendo". We can learn the way and apirit of Samurai who is ancient warrior Japan.

TEA HOUSE

After training, take a rest at famous sophisticated tea house of this area.

LOCAL MALL

People says Scenery of this mall is one of the symbolic place which has been left as old-days Tokyo.

SOME COOL SHOPS

Finally, I want to guide to some stores of crafts and rice snacks.
5. SHRINE & FESTIVAL
TORII-GATE

Start from a shrine which has thousands of trii-gates inside. You can enjoy its atmosphere there!!

MAIN HALL

Visit main hall and pray. You can get explanation of shinto priest(guide) about the parts of shrine.

CRAFT SHOP

There are some craft shop. I want you to guide to candy craft shop.

FESTIVAL, FIREWORKS

If it's available, we can go some festival or fireworks. It's mainly conducted on weekends.
6. GAMBLING
PACHINKO, SLOT, LOTTERY

First, we check some spots in city area. It's people's usual way of gambling.

KEIRIN (BIKE RACE)

We can visit and try some gamblings. Keirin has become famous as a game of Olympics.

BOAT RACE

Boat race started in Japan too. Nowadays some "Manga" are drawed on the theme of Boat race.

SHRINE FOR WIN

There are some shrines in Japan which are believed to give us special luck of gambling!!! We can go if you want.